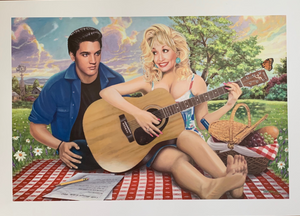 Canvas Size - 27 x 19
CANVAS PAINTING ORDER ALERT: Ronnie will sign his name to all canvas paintings...please let us know if also you want him to sign the canvas painting to you or someone else on the notes section at checkout. 
NOTE: All prints and paintings are shipped unframed...Framing is not included in the price.
LIMITED EDITION CANVAS PAINTING - SHIPPING/DELIVERY ALERT:

The Limited Edition on Canvas Painting is produced to order and may take a minimum of 1 week longer than delivery time stated below.
Allow a minimum of 6 weeks for delivery when shipping the Limited Edition Canvas Painting within the United States.
To our Customers ordering from other Countries:
Please send an email to: ronniemcdowellpaintings@gmail.com with the painting you are ordering and your address so we can get the price on the postage and estimated delivery times before you order.