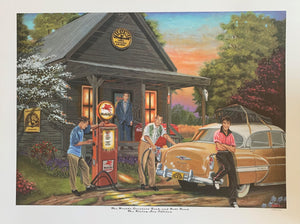 Elvis Presley, Bill Black, DJ Fontana & Scotty Moore stop at an old gas station back in the 50's. It was pretty much the only place back then that you could buy gas.
As Keith Richards of the Rolling Stones said, "We are not the World's Greatest Rock & Roll Band....That's Elvis, Bill, DJ & Scotty!"
Print Size - 27 x 19
The "Unsigned" (Original) Prints are $29.95 each and the "Signed" Prints are $49.95 each.

IF YOU ARE ORDERING A SIGNED PRINT - Please let us know who you want Ronnie to sign the print to on the notes section at checkout. If we do not receive instructions from you in the notes section, the print will be sent with Ronnie's signature only.
 Allow 2-3 weeks for delivery when shipping within the United States.
NOTE: All prints and paintings are shipped unframed...Framing is not included in the price.
To our Customers ordering from other Countries:
Please send an email to: ronniemcdowellpaintings@gmail.com with the print you are ordering and your address so we can get the price on the postage and estimated delivery times before you order.